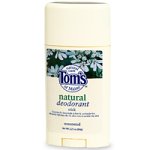 A couple weeks ago I started using Tom's of Maine Natural Deodorant, and I haven't had any complaints about it yet. More importantly perhaps is that I haven't heard any complaints about it yet, from people that spend time near me. I decided to switch from Mitchum because of the Diet and Exercise class I took last quarter at UCLA, in which the professor predicted that in 20 years, the chemical industry in general will have been found accountable for significant death and disease and will face public outrage, just as the cigarette industry has today. So I have been using the unscented variety which, for some reason, has the refreshing scent of lemon and lime. I can go a full day and a half on this stuff - don't ask about the details. But be you warned. After precisely 36 hours, the deodorant, no longer able to continue its war versus nature, will cowardly flee the battleground and yield to the suffocating stench of death and decay. Mike's Morsel: Set your stopwatch the moment you apply the product to thirty-six hours.
The judge rules: highly recommended. It is further bestowed the Scrambled Brains Medal of Odorlessness 2006.
Follow me on Twitter for the latest updates, and make sure to check out my community opinion social networking project, Blocvox.