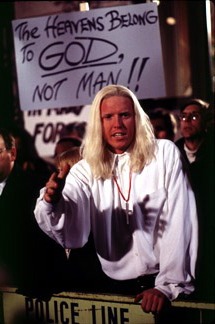 I was on the bus yesterday, approaching Wilshire heading south on Westwood, and I paused from my reading to see this crazy looking guy sprinting down the sidewalk across the street. Tall white guy with long, platinum-bleached hair, wearing a long-sleeve white shirt and black pants… In short, he looked like the cult leader from the movie Contact. (see picture) So I went back to my reading, the AJAX.Net Wrapper Usage Guide, (exciting stuff, by the way), and a paragraph and code sample later, who should be climbing aboard the bus but the running guy. OK, So he was was running to catch the bus, cool. Then the guy takes a position in the aisle, holding the bars above his head for support — whoa! Not cool! NOT COOL! Yesterday it was hot, and this man was clothed head to foot and ran two blocks. When he raised his arm, I swear, even though he was 10 feet away, his armpit was pointed right at me and it smelled just God-awful. It was as if he had the uncanny ability to target his stench, like a sort of B.O. Laser that was locked onto my nose! Ho, man! I wanted to climb out the window right then and there! It was really getting to my brain — everywhere I looked I saw rotting tacos! Eventually the guy left, but I don't think I can even go near a Mexican restaurant for at least a couple months! Man alive! …Oh wait, unless it's Taco Bell.
So I have a freak phobia of mold. Or, I have a phobia of freak mold. I don't know. But my freshman year of college, about 13 or 14 years ago now, a roommate of mine was gonna go on this cleansing diet where he would only drink lemon water for 10 days. Don't ask me. He ended up doing it for one day then went home for a week, leaving my large pot full of his healing potion. Finally I decided to clean it and put it away. But nothing in the world could have prepared me for what I saw when I lifted the lid of that pot, that crisp summer night. Floating on the top of the water was a polka-dot pattern of green mold discs. *HURL* I felt like the mold was gonna suck me into the pot and burn me alive! Or maybe that was just 'cause I was suddenly light-headed and dizzy. What the hell was that stuff? I never saw mold of that design. Made me want to run as far from Westwood as possible. But it was late and I was tired. As I poured the mold juice into the sink, the entire top layer slid out of the pot and down the drain in one big piece. That was it. As my arms went limp, my irrational fear of mold had crystallized. No longer would I look a mold in the eye and say "Bring it, punk." Now I would just be paralyzed with the thought "Why does that mold have an eye?!" Anyway, after talking this over with a long-time friend that I always neglect to call 'cause I'm lame, I figured it must be an evolutionary adaptation. Think about it. Back in the day when we were all just amoeba in the primordial goo, mold must have been a serious threat to life and limb, er, life and pseudopod. The amoeba that did survive, which would provide the genetic basis for bacteria and eventually for life as we know it, must have had an acute aversion to mold. By "acute aversion" I mean they must have freaked out by the sight of mold-eyes just as much as I did! Which makes sense, since my genes are decended from their's. So when I see mold, I'm merely reverting to primordial survival instincts. Which also explains why I like to feed on decaying vegatation in freshwater streams.
Parting Tidbits:
Fast fact: Dr. Pepper prune-based! WOW! That was fast!
What did the Filipino say when his kid put his shoes on without socks? "I'm a health professional, and I advise you to wear socks, or your feet will get masticated by your chews!" Ouch! He's right, Boi!
Follow me on Twitter for the latest updates, and make sure to check out my community opinion social networking project, Blocvox.